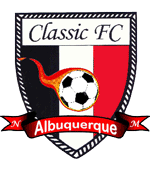 VALENCIA SOCCER ACADEMY (VSA) Intro to competitive soccer U5 - U10. Our Mission is to provide a fun and challenging experience for every child to grow into competitive soccer The Academy main focus is to create a fun and nurturing environment while learning the basics of competitive soccer in a cost-effective environment. The academy, is part of the Classic FC. The Classic FC is a full service soccer club, serving youth soccer players for over 30 years in Albuquerque and surrounding cities in New Mexico.
VSA coaches, were carefully selected based on their soccer experience, knowledge, character, and dedication to the game of soccer. They have made a commitment for continued personal education in soccer and to provide a nurturing environment for all the players.
Interested in Coaching ?
☰ Click Here
2017 - 2018 Season .
Fall season dates are August 23 and 24th through October 28
Regular REGISTRATION 6/17/2017 at Huning Ranch Park from 11:00 to 1:00, Cost $105.00 or Register On-Line now
ON-GOING REGISTRATION Call 505-440-4960 or Register On-Line now
valenciasocceraca@gmail.com